Photo of students standing together in front of a prison.
We have a school of public affairs [to] produce thinkers and doers: people who dream of progress and will try to turn those dreams into solid achievements." — President Lyndon Baines Johnson
Our impact is magnified by our team of students, who contribute their skills in policy and legal analysis and their passion for social change.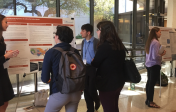 PJIL creates opportunities for graduate students in public policy and law to be involved in real-world justice policy projects, getting them excited, inspired, and prepared for their future careers by working closely with policy makers, agency officials, advocates, and individuals impacted by the justice system. Students have produced reports, briefs, and other documents that have influenced policy reform and systems change efforts, and increased public awareness about important justice policy issues.
Opportunities for Graduate Students
Student Research Assistants
Graduate-level policy and law students can support our efforts by applying to be a student research assistant. Student research assistants will have the opportunity to participate in collaborative research on PJIL's project portfolio, and will focus on different activities, depending upon their background, interest, and PJIL's needs. Student research assistants have a strong background in and commitment to justice reform, and typically will have already taken one of PJIL's affiliated courses. These are paid positions that are filled before the fall, winter, and summer semesters. 
Student Volunteers
PJIL may have occasional need for volunteers to assist with events or specific short-term projects or tasks. Students can sign-up to volunteer with PJIL using the form below. Please specify if you have certain interests or skills, and we will reach out to you if we need any volunteer assistance.
Criminal Justice Policy: Corrections and Sentencing
This seminar provides an overview of mass incarceration in the United States, and includes a focus on issues related to racial justice, sentencing, pretrial practices, prison conditions, COVID in prisons and jails, independent oversight, and international models of corrections. Students can conduct in-depth research on a topic of their choosing. When conditions permit, we include tours of prisons and jails, and during the legislative session in Texas, we also observe legislative committee hearings.
Youth Justice and the Policy Development Process
This course examines the policy development process through the lens of youth justice. Using four case studies related to school-to-prison pipeline issues, decarceration of juvenile facilities, extreme sentencing of youth, and the raise-the-age campaign, students learn about the various factors that influence policy development. The course involves role-play activities in which students testify before mock legislative committees and serve as mock legislators, and produce policy memos and written witness testimony. There is also a substantial team research project.
Advanced Research in Criminal Justice
This course involves intensive team research projects focused on various aspects of the incarceration experience, with an eye towards producing research and policy documents that can help inform policy and practice. The specific research topic varies each year. Although this is considered an "advanced" class, there is no prerequisite for the course. However, students should be prepared to engage in substantial research and writing, and should be comfortable working in teams on a significant project. While a background in criminal justice or corrections is not required for the class, it would certainly be helpful.
Advanced Juvenile and Criminal Justice Policy: The Legislative Process
This class is open to students who have taken a previous course in juvenile justice policy or criminal justice policy with Professor Deitch (or who are taking a concurrent course), and students must have the permission of the instructor to enroll. Students will be placed in a key legislative office for at least 12-15 hours per week during the Texas legislative session where they will work exclusively on criminal justice and/or juvenile justice issues. The class provides a rare opportunity for students to observe the legislative process up-close on issues with which they have significant familiarity.
Communications
This course prepares students to communicate effectively in both written and oral formats and in various policy contexts, all taught through the lens of criminal justice. There are weekly writing assignments, as well as opportunities to present mock legislative testimony and a legislative briefing, participate in a negotiation role-play, and receive training on conducting media interviews. This is a core course at the LBJ School.