Image of a full bookshelf.
See publications in the following categories:
Transparency & Oversight (Featured Publications)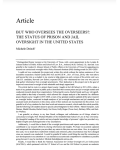 But Who Oversees the Overseers? The Status of Prison and Jail Oversight in the United States
Updating and expanding upon Michele's 50-state inventory of prison oversight models published in 2010, this article provides background information about the nature, value, and history of correctional oversight; documents the shifting landscape and increasing momentum around the oversight issue over the last decade; and provides a comprehensive assessment of the state of prison and jail oversight in the US today.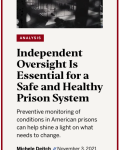 Independent Oversight Is Essential for a Safe and Healthy Prison System
Published as part of the Brennan Center for Justice's series on punitive excess, Michele identifies independent correctional oversight as a critical but often overlooked tool that provides a window into one of our most opaque public institutions, one that denies elected officials the option of remaining purposefully ignorant about correctional conditions.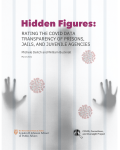 Hidden Figures: Rating the COVID Data Transparency of Prisons, Jails, and Juvenile Agencies
Using a grading rubric we developed from key metrics every state should be reporting with respect to COVID in correctional facilities, "Hidden Figures" reveals a troubling lack of transparency about data regarding the spread, toll and management of COVID-19 in state prisons, local jails and state-run juvenile facilities. The report also offers a set of recommendations on ways corrections agencies and state and local leaders could improve data transparency.
Health & Safety (Featured Publications)
Women in Custody (Featured Publications)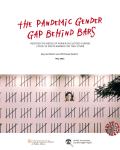 The Pandemic Gender Gap Behind Bars: Meeting the Needs of Women in Custody During COVID-19 and Planning for the Future
This report examines the distinct harms that women in custody experience during incarceration and highlights the ways in which correctional agencies' COVID-19 restrictions are exacerbating those harms. The report recommends a set of gender-responsive approaches to COVID precautions in corrections facilities that would simultaneously strengthen public health and improve outcomes for women, their families, and communities.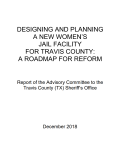 Designing and Planning a New Women's Jail Facility for Travis County: A Roadmap for Reform
As Chair and member, respectively, on the Travis County Sheriff's Women's Jail Advisory Committee in 2018, Michele and Alycia detail a vision for a reimagined, gender-responsive facility for women in custody at the Travis County Correctional Complex.
Youth Justice (Featured Publications)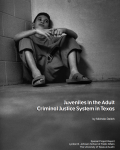 Juveniles in the Adult Criminal Justice System in Texas
This report examines all available Texas data with respect to certified juveniles and compares them to the population of juveniles who receive determinate sentences and are placed in TYC. It also compares the significant differences in programming and services for the two populations of juvenile offenders.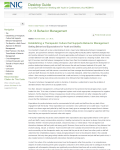 Desktop Guide to Quality Practice for Working with Youth in Confinement, Chapter 14
Michele and Alycia researched and drafted a chapter of NIC's Desktop Guide to Quality Practice for Working with Youth in Confinement on ways to manage the behavior of youth in confinement.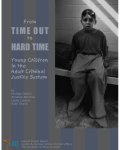 From Time Out to Hard Time: Young Children in the Adult Criminal Justice System
This report offers set of recommendations directed to policy-makers to reconsider policies that allow for the trial and harsh sentencing of pre-adolescent children in the adult criminal justice system. It was the focus of a lead editorial in the New York Times, "12 and Under in Prison."