Photo of concrete stools in prison in front of a glass wall.
"It has long been said that a society's worth can be judged by taking stock of its prisons...May we hope that our country's facilities serve as models rather than cautionary tales." — Justice Sonya Sotomayor
There is an urgent need for initiatives that draw on the best available research to reduce harm inside prisons and jails and to help transform facilities into safe and healthy places that respect human dignity. The Prison and Jail Innovation Lab aims to meet this need.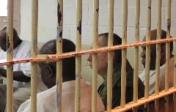 Conditions in prisons and jails are an often overlooked area of criminal justice reform.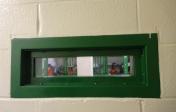 Jails and prisons are closed environments, lacking transparency and accountability.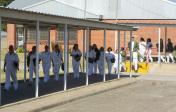 Problematic conditions of confinement disproportionately affect lower-income people of color, especially women.