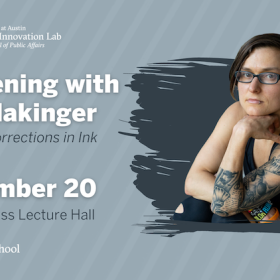 The Prison and Jail Innovation Lab (PJIL) at the LBJ School of Public Affairs hosted an evening of conversation with author and journalist Keri Blakinger, as she discusses her new acclaimed memoir, Corrections in Ink, with LBJ School Professor Michele Deitch.

After spending nearly two years behind bars, Keri became a reporter dedicated to exposing to exposing our flawed prisons as only an insider could. This moderated discussion provided a forum for discussing prison conditions, women in custody, and the potential for redemption among justice-impacted people. Click here to learn more about our speakers and Corrections in Ink.
 
Event Details
Date and Time
Sept. 20, 2022, 5:15 to 6:45 p.m.
Location
LBJ Bass Lecture Hall